Latest Research
Developing a product with Kuji Amber, with the sensibility of young people-both the students and the corporations feel the benefit of that.
---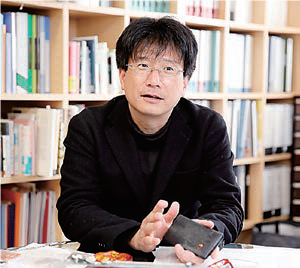 Faculty of Humanities and Social Sciences
Professor Takamitsu Tanaka
【Design/Art Engineering】
We at the Industrial Design Laboratory have been lucky enough to work with the Kuji Kohaku Co., Ltd. (Kuji Kohaku) for many years, and have worked with them to develop various amber-themed products. Of these products, the ones that have received the most praise and are even now popular products are the "amber-embellished wallet" and the "card case." Joint development for these products began when Kuji Kohaku asked us if we could design and develop a product that was not jewelry, but that would still be used every day. Because most of the students had never seen or touched amber, they actually went to Kuji City to learn more about it, listening to lectures at the museum and engaging in the actual excavation process. Afterwards, they began the design process. About 20 students participated in the project, and each student made about 10 designs, so we ended up with about 300 sketches. We submitted these to Kuji Kohaku and also conducted a survey at our exhibition at a department store. The wallet and the card case seemed to have the most support across a wide range of ages, and so we began production of those. Through this project, Kuji Kohaku was able to transcend its usual fixed ideas and create a product with younger, fresher ideas, and the students were able to simulate a real-world experience, and get a sense of what kind of design ability is required of design professionals. The project, which was also praised for its contribution to the regional community, was a meaningful one for both sides.