Latest Research
Assisting coastal corporations with robot technology that exists in the overlap between medical equipment and seafood processing machinery.
---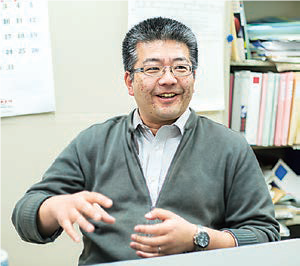 Faculty of Science and Engineering
Associate Professor Tasuku Miyoshi
【Fishery Robotics, Biomimetic Engineering】
My engagement with robot technology development has been in biomimetic engineering, which is a field that aims to recreate, through engineering, the extraordinary biological processes of living beings. After the Great East Japan Earthquake in 2011, we have been working to advance the recovery efforts for the fishery and seafood processing industries, using robot technologies that were built on biomimetic robots. The Great East Japan Earthquake has made issues like the super-aging workforce, the lack of skilled workers, and the lack of workers in general apparent. The fields that are currently plagued by these issues are the fields in which advancements in robot technologies are the most in demand. As such, we have come up with robots that are made specifically for the fishery and seafood processing industries, beginning with the automation of the seaweed core removal process, like in the photograph, and have proposed a number of automated machines for a variety of seafood types and processing methods. We also believe, now more than ever, that the active and wide-ranging use of underwater robots is indispensable for the evaluation and management of underwater resources. As such, we are currently conducting experiments for the development of an underwater robot that we expect will operate in Sanriku coastal area. Iwate Prefecture is home to many companies with exceptional technologies, not only inland but along the Sanriku coast. We hope to continue our collaborations with these companies, developing Iwate Prefecture original machines, and provide even further contributions to the advancement of robot technologies in the coastal area.