Message from the President
Message from the President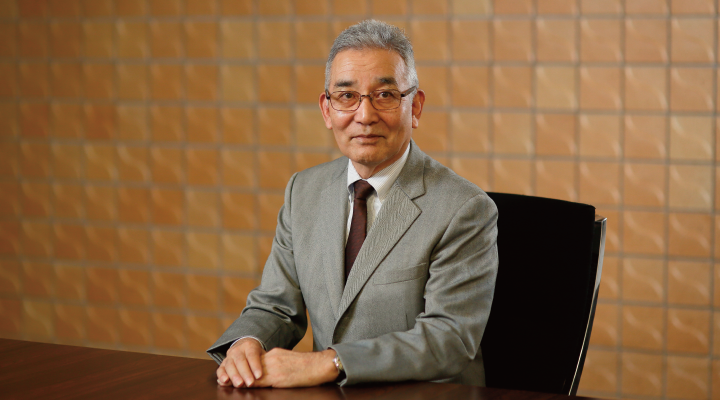 From Revitalization to Regional Development
I am delighted to say that this year Iwate University celebrates the 70th anniversary of our founding, with support from many faculty members, students, graduates, and members of the community. Since becoming a National University Corporation in the 2004 academic year, we have carried out corporate management for each six-year period of our midterm goals and midterm plan; this year is the fourth year of the third period. This period has four key areas: 1) the creation of a "glocal" university, 2) continued involvement in post-disaster reconstruction, 3) cultivation of our identity as Iwate University, and 4) leadership in local communities. This year we have created an 80-point annual plan, striving to support these goals.
Now, looking back on the past 10 years as a discrete period, I believe that the greatest event was surely when we combined all of our strength and focused on reconstruction activities as a university located in a prefecture hit by the Great East Japan Earthquake of 2011 under the slogan "All Iwate University Power." Thus, as part of our 70th anniversary project we are summarizing the reconstruction activities to which Iwate University leant its strength by theme and time, and publishing this in a 70th anniversary magazine for the commemorative ceremony in October, with the cooperation of all related parties including faculty members, students, alumni, and supporting companies.
Furthermore, we have been reorganizing our faculties and graduate schools one by one since 2016 so that we can make the best use of our reconstruction activities to date in research and education; in April 2019 we established the Graduate School of Science and Engineering for doctoral programs, completing our new education structure in Iwate University. In March 2019, we sent out the first students to complete master's programs in the Graduate School of Arts and Sciences, and expect to produce the first graduates from our reorganized undergraduate faculties in March next year.
In addition to reconstruction after the Great East Japan Earthquake, revitalizing local communities - in other words, regional development - in the different regions of Japan, including Iwate Prefecture, is a major issue. Regional development requires local communities to take responsibility for their own local creation, and to carry out continuous development. Therefore, in terms of the duty of a university regarding regional development, it is essential for us to develop technology based on specialist knowledge and to create frameworks at the same time as fostering leaders who can take responsibility for and accelerate regional development. Iwate University carries out interdisciplinary education and research through a new curriculum that transverses conventional traditional hierarchical systems, and we strive to offer an education for "glocal" people who maintain a broad, global perspective while facing local issues. We anticipate that Iwate University alumni who have carried out their studies through our new education structure, created based upon our reconstruction activities, will play active roles as leaders in their own communities and organizations in the future.
In addition, our efforts regarding the "creation of a glocal university" will be extremely important in the future of Iwate University. Up until now, we have developed our characteristic education and research programs with a policy of increasing our acceptance of international opportunities and study abroad programs for both students and faculty members, and are planning to establish an international alumni association and to extend the International House (Kokusai Koryu Kaikan) in the future, but it is also necessary to further improve the English proficiency of students and faculty members at the same time.
In the future, changes in circumstances and the diversification of values will accelerate, and our society will surely become all the more chaotic. However, looking back in history, only life forms with the ability to adapt to their environment have survived for a long time. I think that this year, when we dive into the second half of the third period, will be a time to focus on the fourth period and beyond, and consider the goals of Iwate University's next period.