International Symposium Commemorating Iwate University's 70th Anniversary
International Symposium Commemorating Iwate University's 70th Anniversary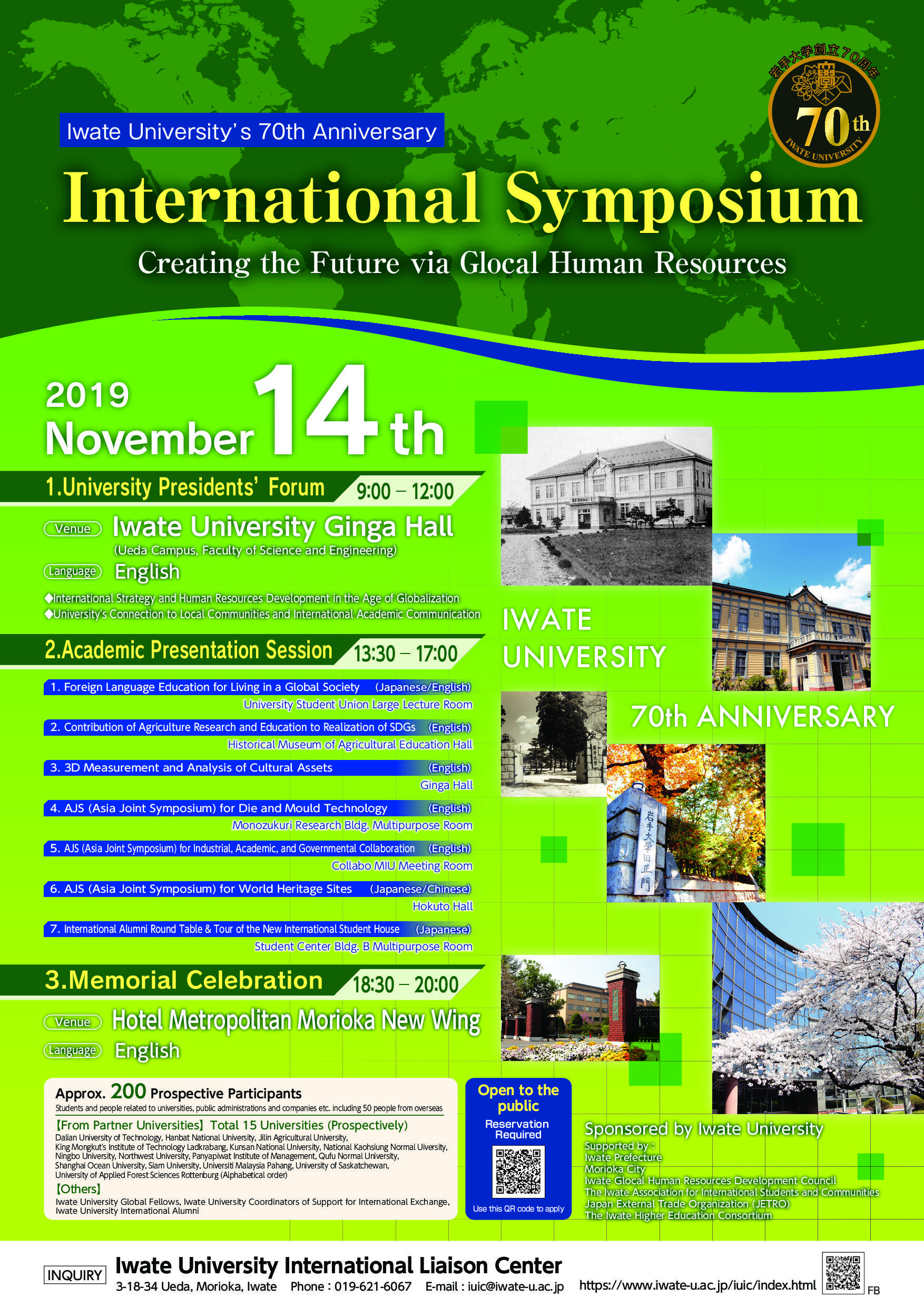 International Symposium Commemorating Iwate University's 70th Anniversary
- Creating the Future via Glocal Human Resource -


Objectives of Symposium
Iwate University was established as a national university under the new education system in 1949 after the merge of the Morioka Normal School, founded in 1876, Morioka Technical College, and the Morioka College of Agriculture and Forestry where the famous Japanese writer Miyazawa Kenji studied. Iwate University made a new start as an incorporated national university in 2004, and will celebrate the 70th anniversary of its founding in 2019.
Since the Great East Japan Earthquake occurred on March 11, 2011, we have been putting all our effort into earthquake recovery and reconstruction assistance with the slogan "All Iwate University Power!". Our revitalization activities during the past 8 years are a very distinctive part of our 70-year history, and we believe that we have a responsibility to make the best use of this very unique experience for our education and research, as well as to share our experience with the world.
In terms of international strategy, we aim to become a "glocal university", which develops human resources who have both local and global perspectives. Specifically, this goal is driven by the vision that "Iwate University will play a role in bridging local and international societies and contribute to establishing their sustainable development through education and research, including disaster revitalization and regional development". We are promoting international exchange projects, with the aim of cultivating students with problem solving abilities and a global perspective, and taking a leadership role in the region's globalization as a regional core academic center.
We are pleased to invite the presidents or vice presidents from our partner universities to participate in the Presidents' forum entitled "Creating the Future via Glocal Human Resources" for Iwate University's 70th anniversary to be held on November 14-15, 2019.
The aim of this forum is to host a discussion about developing human resources with a global perspective, training personnel who can contribute to regional development, and promoting international academic exchanges. We believe that this forum will provide you with great opportunities to develop a fruitful academic network.
Dates

and

Venue

Dates: November 13th-16th, 2019
Venue: Iwate University, Japan

13th Wednesday
19:00-20:30
Welcome Dinner


14th Thursday
9:00-12:00 @Ginga Hall
Memorial ceremony, Forum of Participating University Presidents/Vice Presidents about:
・International Strategy and Human Resources Development in the Age of Globalization
・University's Connection to Local Communities and International Academic Communication

12:00-13:30
Lunch

13:30-17:00 @Faculty Classrooms
Academic Presentation Session from Participating University's
Faculty Representatives
・ Foreign Language Education for Living in a Global Society
・ 3D measurement and analysis of cultural assets
・ Contribution of Agriculture Research and Education to Realization of SDGs
(Sustainable Development Goals) 
・ AJS for Industrial, Academic, and Governmental Collaboration
・ AJS for World Heritage Sites
・ AJS for Die and Mould technology
・ International Alumni Round Table and Tour of the New International
Student House

18:30 Memorial Celebration @Morioka Metropolitan Hotel Main Bldg.



15th Friday
9:00-17:00
Excursion by Bus (provisional):
・Hiraizumi Tour
・Factory Tour
17:30-19:30
Farewell Dinner
Participating Universities (tentative):
Dalian University of Technology, Northwestern University, Jilin Agricultural University, Qufu Normal University, Shanghai Ocean University, Ningbo University, Kunsan National University, Hanbat National University, National Kaohsiung Normal University, King Mongkut's Institute of Technology Ladkrabang, Panyapiwat Institute of Management, Siam University, University of Applied Forest Sciences Rottenburg, University of Saskatchewan, Universiti Malaysia Pahang
Also Attending: Global Fellows, International Coordinators, and Foreign Graduates
Notes
*The Iwate University 70th Anniversary Ceremony will be held on October 19th in Japan. This symposium is one of a series of events held in November that celebrate the 70th anniversary.
*The UURR Project's Asia Joint Symposium will be held simultaneously with this symposium.
(For Dalian University of Technology, Hanbat National University: Detailed information on AJS will be announced later.)
*The Presidents' Forum will be carried out in English.
*Please refer to the respective subcommittee's introduction for the working language of the presentations.
*There may be changes to this schedule.
Academic Presentation Session from Participating University's Faculty Representatives
Foreign Language Education for Developing Language Users
Working languages of the Session: English or Japanese
With the widespread application of the Common European Framework of Reference for Languages (CEFR), there is an increasing emphasis on developing learners' communicative skills in foreign language education. Whether it be in national policy, university foreign language programs, or foreign language teacher education, the panelists have been involved in designing education programs to develop foreign language users. In this discussion, each panelist will discuss the achievements and challenges of their respective foreign language education programs. It is hoped that through this discussion we can understand the common purposes and challenges we share in foreign language education.
3D measurement and analysis of cultural assets
Working languages of the Session: English
3rd Research Symposium of Iwate Univ., National Univ. of Mongolia and NW A&F Univ. Each speaker will present their research.

Contribution of Agriculture Research and Education to realization of SDGs (Sustainable Development Goals)
Working languages of the Session: English
Despite the rapid development of science and technology, climate change is still expanding, and the sustainability of the global environment in which we live is threatened. To improve this crisis, the Sustainable Development Goals (SDGs) were adopted unanimously by the 196 member countries of the United Nations in 2015. It consists of 17 goals and 169 targets for bettering the lives of everyone around the world, including the developed countries listed in the SDGs. SDGs are strongly expected to turn society away from vectors of mass production and mass consumption, and to become a guideline for building a sustainable society for humanity.
The International Symposium "Glocal Human Resources and Future Creation" at Iwate University 70th Anniversary Project is sponsored by the Faculty of Agriculture, Japan, China, the Netherlands, and Canada, including each University (Iwate Univ., Jilin Agricultural Univ., Shanghai Ocean Univ., Rottenburg Univ., Saskatchewan Univ.). Also, I would like to discuss the future of agriculture and society, including about the high school students who will be responsible for the future.


AJS (Asia Joint Symposium)
*Working languages of the Session: English
The UURR Project's Asia Joint Symposium will be split into 3 subcommittees with respective topics: Industrial, Academic, and Governmental Collaboration / World Heritage Sites / Die and Mould technology
Application
Please return the completed application form to iuic@iwate-u.ac.jp by Wednesday, Oct. 31, 2019
For general participants
General Participants - Application form of International Symposium 2019.xls
For Alumni
Alumni - Application form of international symposium 2019.xls